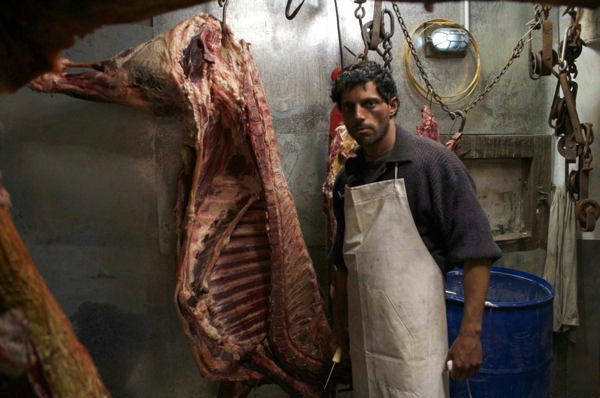 El film argentino, primera ficción de Sebastián Schindel, obtuvo dos importantes premios en el Festival de Cine de Guadalajara, que finalizó el domingo: MEJOR OPERA PRIMA IBEROAMERICANA y MEJOR ACTOR IBEROAMERICANO, para su protagonista Joaquín Furriel.

El último fin de semana, además, la película basada en un libro de Elías Neuman, logró el Premio Balance de Plata entre los títulos argentinos en el Festival Pantalla Pinamar.

"El patrón…", cuyo elenco completan Luis Ziembrowski, Mónica Lairana, Germán De Silva y Guillermo Pfening, ya convocó a más de 35.000 espectadores en salas argentinas y venía de lograr el Premio del público en el 18vo. Festival de Punta del Este.

The Argentine film –Sebastian Schindel´s first fiction- won two awards at the Guadalajara Film Festival, which ended last Sunday: BEST IBEROAMERICAN FIRST FEATURE and BEST IBEROAMERICAN ACTOR for Joaquin Furriel.

The last weekend, The film based on a book of Elijah Neumanalso also won the Balance de Plata Award in Pantalla Pinamar Film Festival.

"The Boss …" whose cast also has Luis Ziembrowski, Monica Lairana, Germán De Silva and Guillermo Pfening, has attracted more than 35,000 spectators in Argentina up to now and also received the Audience Award at the 18th. Punta del Este Film Festival.

O filme argentino, primeira ficção de Sebastian Schindel, ganhou dois importantes prêmios no Festival de Cinema de Guadalajara, que terminou no domingo: MELHOR FILME DE ESTREIA IBERO-AMERICANO e MELHOR ATOR IBERO-AMERICANO para seu protagonista, Joaquin furriel.

O último fim de semana, também o filme baseado em um livro de Elias Neuman, ganhou o Prêmio Balance de Plata entre os títulos argentinos concorrentes no Festival Pantalla Pinamar.

"El Patrón …", cujo elenco completo está formado por Luis Ziembrowski, Monica Lairana, Germán De Silva e Guillermo Pfening, e que já atraiu mais de 35.000 espectadores nas salas de argentinos também acaba de ganhar o Prêmio do Público no 18ª. Festival de Punta del Este.