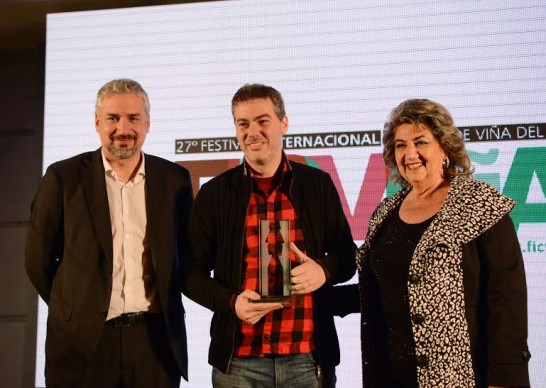 Sebastián Schindel com Virginia Reginato, Alcaldesa de la Ciudad.
La película El Patrón, radiografía de un crimen de Sebastián Schindel que participó de la competencia internacional del 27 Festival de Cine de Viña del Mar en Chile fue la gran triunfadora llevándose 4 premios en la ceremonia de clausura que tuvo lugar en el Hotel O'Higgins el pasado 5 de septiembre.

Los premios fueron: Mejor Largometraje de Ficción, Mejor Director, Premio FEISAL y Premio del publico.

El Festival proyectó 160 películas que fueron asistidas de manera gratuita por 14.000.

The film El Patron, radiografía de un crimen by Argentine director Sebastian Schindel who participated in the international competition of the 27 Viña del Mar International Film Festival in Chile topped 4 awards at the closing ceremony held in the O'Higgins Hotel on Sept 5th.

The awards were: Best Feature, Best Director, FEISAL Award and Audience Award.

The Festival screened 160 films to an audience of more than 14.000.

O filme El Patrón, radiografía de un crimen de Sebastian Schindel que participou na competição internacional do Festival Internacional de Cinema de Viña del Mar no Chile recebeu 4 prêmios na cerimônia de encerramento realizada no Hotel O'Higgins no passado dia 5 de setembro.

Os prêmios foram: Melhor longa de ficção, Melhor Diretor, Prêmio FEISAL e Prêmio do Público.

Participaram do festival 160 filmes que foram assistidos de maneira gratuita por mais de 14000 pessoas.