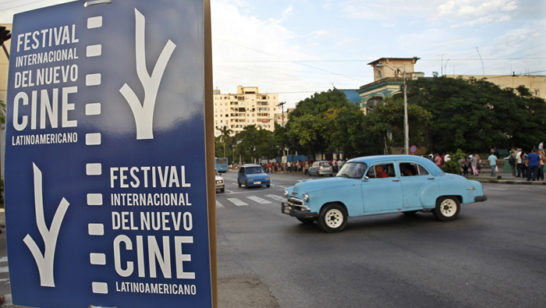 La 38 edición del Festival del Nuevo Cine Latinoamericano de La Habana, el evento más relevante para el cine latinoamericano, comienza hoy y Habanero estará presente con 4 películas en la sección oficial: Sharing Stella, del director cubano Kiki Álvarez en la Competencia de Largometraje; Redemoinho, del brasileño José Luiz Villamarim en la Competencia de Opera Prima y en la sección A Sala Llena, los films La Última tarde del director peruano Joel Calero y Salsipuedes, de Manolito Rodríguez y Ricardo Aguilar (Panamá)

Para los que nos han dicho incesantemente "Yo quiero ver Santa y Andrés" en el Festival de la Habana, les pasamos este link para que se informen sobre el debate suscitado por la exclusión de la película dirigida por Carlos Lechuga del evento.

Por otra parte, Habanero y Alta Definición Argentina unirán nuevamente fuerzas para auspiciar conjuntamente el Premio Habanero/Alta Definición en la sección de work-in-progress del Festival del Nuevo Cine Latinoamericano (La Habana, del 8 al 19 de diciembre)

El premio consiste en un contrato de representación internacional con una inversión de hasta 10.000 U$S en la promoción internacional para una de las películas participantes de la sección Primera Copia, más servicios de post producción de imagen por un valor estimado de 40.000 U$S destinados a la misma película.

Especialistas en cámaras RED ONE, SI-2K e HD, Alta Definición Argentina es la empresa líder en América Latina en la prestación de servicios de rodaje y post-producción con tecnología 2K, 4K y HD. Presidida por Gonzalo Rodriguez Bubis y desde sus sedes estratégicas en Argentina, Chile y Uruguay, brindan servicios a clientes en toda América Latina.
The 38th edition of the Havana Film Festival kicks off today and Habanero will be present with 4 films in the oficial selection of this event, the most important one for Latin American film enthusiasts, all over the world. Among the films in the Feature Competition slate, Sharing Stella by Cuban director Kiki Álvarez; in the First Feature Competition: Redemoinho by Brazilian director José Luiz Villamarim. At the A sala llena section: La Última tarde by Peruvian filmmaker Joel Calero and Salsipuedes, by Manolito Rodríguez and Ricardo Aguilar (Panama)

For those who have said to us "I want to see Santa & Andres" in Havana, we invite you to follow the controversy regarding the exclusion of the film directed by Cuban filmmaker Carlos Lechuga from the event, which has been going on online and offline for the past weeks.

Habanero and Alta Definición Argentina will co-sponsor once again the Habanero / Alta Definición Award at the Havana Film Festival's work-in-progress section "Primera Copia". The award consists of a promotional investment of up to 10,000 U$D for the international representation of one of the competing films, plus image post production services valued in 40,000 U$D for the same film.

Specialists in SI-2K, HD, RED ONE HD cameras, Alta Definición Argentina in the only company in Latin America that can provide from a single camera to a full range of state-of-the-art post production services with 2K, 4K and HD technology. Chaired by Gonzalo Rodriguez Bubis, the company's highly experienced professional crew has been servicing customers throughout Latin America from their strategic offices in Argentina, Chile and Uruguay.
A 38 edição do Festival del Nuevo Cine Latinoamericano de Havana, o principal encontro do cinema latino-americano, começa hoje e Habanero estará presente com 4 filmes na secção oficial: Sharing Stella, do diretor cubano Kiki Álvarez na Mostra Competitiva de Longa-metragem; Redemoinho, do brasileiro José Luiz Villamarim na Mostra Competitiva de Filmes de Estreia e na secção A Sala Llena, os filmes La Última tarde do director peruano Joel Calero e Salsipuedes, de Manolito Rodríguez e Ricardo Aguilar (Panamá)

Para aqueles que têm nos falado "Eu quero assistir Santa y Andrés" no Festival de Havana, segue o link para que fiquem por dentro do debate surigdo pela exclusão do filme dirigido por Carlos Lechuga do evento.


Este ano também, Habanero e Alta Definición Argentina unem forças novamente para co-patrocinar o Prêmio Habanero/HD Argentina na secção de work-in-progress Primera Copia do Festival do Novo Cinema Latino-americano (Havana, dezembro 03-13 )

O Prêmio consiste em um contrato de representação internacional de Habanero com um investimento de até U$S 10.000 na promoção internacional de um dos filmes da secção Primeira Cópia além de serviços de pós-produção de imagem por um valor estimado de U$S 40.000 U$D para o mesmo filme.

Especialistas em câmeras RED ONE, SI-2K e HD Alta Definición Argentina é a empresa líder na América Latina na prestação de serviços de filmagem e pós-produção com tecnologia 2K, 4K e HD. Presidida por Gonzalo Rodriguez Bubis e a partir de suas bases estratégicas na Argentina, Chile e Uruguai, eles atendem clientes em toda a América Latina.
Donwload the festival program here.
SCREENINGS / PROYECCIONES / PROJEÇÕES
REDEMOINHO (Brasil)
Dom/Sun 11 RIVIERA 10:00am, 3:00pm
Mie/Wed/Qua 14 LA RAMPA 3:00pm
Jue/Thu/Qui 15 YARA 10:00am, 5:30pm

SHARING STELLA (Cuba)
Vie/Fri/Sex 9 CHARLES CHAPLIN 1:00pm
Vie/Fri/Sex 9 CHARLES CHAPLIN 5:30pm
Mar/Tue/Ter 13 YARA 12:30pm, 8:00pm

LA ULTIMA TARDE (Peru)
Vie/Fri/Sex 9 ACAPULCO 10:00am, 5:30pm
Jue/Thu/Qui 15 RIVIERA 3:00pm

SALSIPUEDES (Panama)
Jue/Thu/Qui 8 GLAUBER ROCHA (FUNDACION) 12:15pm, 7:00pm
Sab/Sat 10 ACAPULCO 12:30pm, 8:00pm
Mar/Tue/Ter 13 RIVIERA 10:00am