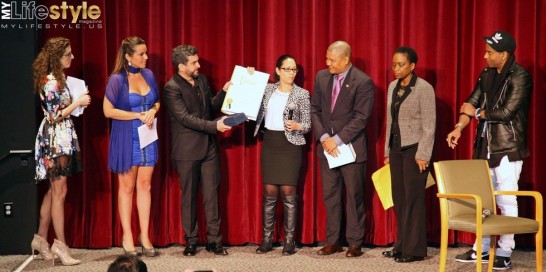 Pavel Giroud recibió en NY por su trabajo en El Acompañante una Mención del Brooklyn Borough President Office (BBPO) "por el buen uso del arte cinematográfico como una herramienta social para educar al público en general sobre el VIH / SIDA y reflexionar sobre sus complejos problemas sociales desde un enfoque humano."

También, por El Acompañante, Pavel recibió el Premio TDN Changemaker 2016 otorgado por el Transdiaspora Network de Nueva York. "El Acompañante" prueba una vez más que el arte puede ser un gran aliado cultural en la estrategia de prevención del VIH / SIDA y nos puede ayudar a mejorar el diálogo inter-cultural con las comunidades másafectadas por el virus en la ciudad de Nueva York".

Los reconocimientos fueron entregados en una ceremonia durante la noche de inauguración del Havana Film Festival en NY, acontecida en el Directors Guild Theatre el pasado 7 de abril.
For his work in El Acompañante (The Companion), Brooklyn Borough President Office (BBPO) has granted a citation to Pavel Giroud for the good use of the art film art as a social tool to educate the general public about HIV/AIDS and reflect on its complex social issues from a humane approach.

Also, Transdiaspora Network's Board of Directors decided to publicly recognize the Cuban filmmaker Pavel Giroud with an extraordinary TDN 2016 Changemaker Award due that his movie "The Companion" can be used as educational material among young people and may assist public health entities as well as community based organizations to expand our awareness strategy within the State of New York's ongoing campaign to become the first state in the nation to eradicate HIV/AIDS by 2020. "The Companion" proves once again that the arts can be a great cultural ally in the prevention strategy of HIV/AIDS and can help us to improve our culturally-oriented conversation with communities highly impacted by the virus in New York City."

A small ceremony took place during the opening night of the 17th Havana International Film Festival in NY, which was held at the Directors Guild Theatre in NYC on April 7, 2016.
Pavel Giroud recebeu o pasado 7 de abril uma Menção do Brooklyn Borough President Office (BBPO) pelo seu filme El Acompañante, pelo "bom uso da arte cinematográfica como ferramenta social para educar o público sobre o HIV / AIDS e refletir sobre questões sociais complexas a partir de uma abordagem humana".

Também pelo filme El Acompañante, Pavel recebeu o Premio NDT Changemaker 2016 outorgado pelo Transdiaspora Network, de Nova York. "El Acompañante uma vez mais prova que as artes podem ser um grande aliado cultural na estratégia de prevenção do HIV / SIDA e pode nos ajudar a melhorar nosso diálogo com comunidades que tem sido massivamente impactadas pelo vírus na cidade de Nova York ".

A cerimonia aconteceu na noite de apertura do Havana Film Festival em NY no Directors Guild Theatre.